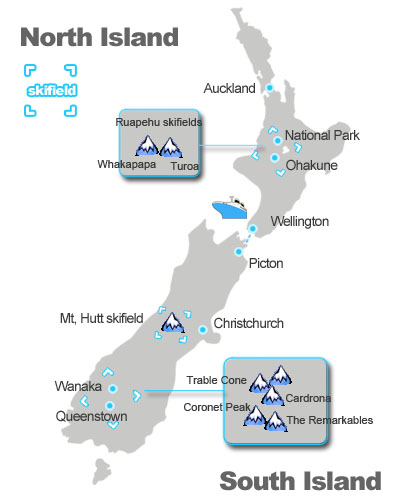 Ski New Zealand and discover the natural wonders and beauty of this Southern Hemisphere alpine wonderland.
The deepest, most reliable snow in the Southern Hemisphere - just hours away from home, with unbeatable panoramic scenery - big mountains, big snow, big sky and ski towns that know how to rock!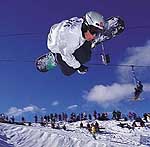 With dramatic snow action to suit skiers and snowboarders of all abilities, New Zealand offers the ultimate winter break.

You can choose to ski and snowboard on the North Island skifields of Turoa and Whakapapa and the major South Island skifields in Methven (Mt Hutt), Queenstown (Coronet Peak and The Remarkables) and Wanaka (Cardrona and Treble Cone).

All major ski fields in New Zealand, meet international ski standards and are located near towns offering excellent range of accommodation to suit all budgets and are serviced by regular rail, bus and/or air services.
Each ski town/resort have their own unique attractions, scenery and social events, like the Queenstown Winter Festival in Queenstown, the Ruapehu Mardi Gras in Ohakune to name a few.

Learning to ski or snowboard has never been easier. There are beginners' facilities on all mountains, with dedicated beginners' slopes at all ski areas. Everything you need for a fantastic day is available. Snow Schools are offering world class learning centres and products for both adults and kids.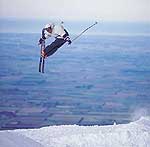 Using the Bus'N'Ski Auckland to Queenstown ski route, you can travel from Auckland to ski and snowboard at Whakapapa or Turoa skifields located on Mt Ruapehu near National Park and Ohakune on the central volcanic plateau of the New Zealand's North Island, before heading south to Wellington and Christchurch by bus and ferry to ski Mt Hutt located west of Christchurch and onto the alpine resort town of Queenstown - to ski or snowboard the skifields of Coronet Peak and The Remarkables or choose from a range of suggested Bus'N'Ski travel options.

After skiing Coronet Peak or the Remarkables in Queenstown - travel north to Auckland on the Bus'N'Ski Queenstown to Auckland ski route, that includes Mt Hutt skifield west of Christchurch and the Whakapapa skifield at National Park or Turoa skifield at Ohakune in the North Island.